ALWAYS WAS, ALWAYS WILL BE
NAIDOC WEEK, 8-15 November, 2020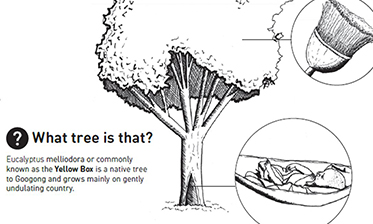 Celebrating NAIDOC Week, 8-15 November 2020
Yerradhang Nguru, in the Aboriginal language of the Ngunawal people, means Gumtree Camp. It was a place to rest and stop for a while under the shade of a gumtree. Yerradhang Nguru is the name of the park on Aprasia Avenue (recognisable by its distinctive gumnut climbing structures) that is sometimes also known as Gumnut Park.
Yellow Box is an attractive specimen tree and is excellent wildlife habitat, with nectar-rich flowers providing a valuable food source for native insects, birds and mammals. Yellow Box is regarded as one of the best Australian trees for high quality honey production.
Trees were important to the traditional custodians of the land known as the Ngunawal people. The bark was removed and used resulting in 'scarring' of the trunk. Traditional uses for the bark included: Coolamon (to hold water), collecting food and for carrying babies. Trees were also scarred to indicate entering or leaving a traditional custodians' boundary, or to indicate the presence of a burial.
Celebrating NAIDOC Week
#NAIDOC2020
#AlwaysWasAlwaysWillBe
With acknowledgment, Thunderstone Aboriginal Cultural Services, and Ngambri people as the traditional custodians of the Queanbeyan and surrounding regions.