SPORTS CLUB ANNOUNCED
Wednesday, 27 January, 2021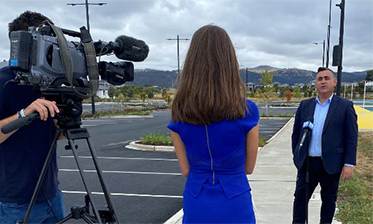 Big win for local sport in Googong
Googong will soon be home to a new sports and recreation club to encourage the community to be stay active and healthy.
Member for Monaro John Barilaro joined Queanbeyan-Palerang Regional Council Mayor Tim Overall and members of the Googong Sport and Recreation Club Committee to announce a $650,000 commitment from the NSW Government.
Mr Barilaro said the project will provide the growing township with a place to gather, socialise and improve local sporting development.
"We know that by building the right facilities, we don't just develop strong athletes, we develop stronger communities, create pathways for future sporting heroes and boost community pride," Mr Barilaro said.
"This funding will support the Googong Sport and Recreation Club Committee work through the design and development of this major project."
The new purpose-built facility will house a bistro, licenced club area, function room and male and female changerooms. Once complete, profits from the club will be shared among local sporting organisations.
"I know that the new Googong Sport and Recreation Club will be a place where people can gather to have fun and enjoy themselves."
"Sport is the lifeblood of regional towns and this club will attract new players, lift participation rates in local sport and help people socialise through sport.
"Our region has done it tough through the COVID-19 pandemic and this project will stimulate the local economy by creating jobs."
Googong Sport and Recreation Club Secretary, Ms Franca Jones, said the funding will mean construction can begin shortly.
"On behalf of the committee, I would like to thank Mr Barilaro and the NSW Government for this major investment in the Googong community," Ms Jones said.
"This funding will help us complete the construction certificate for the new Googong Sport and Recreation Club and allow lodgement for commencement of construction. Our project timeline has been brought forward significantly thanks to this funding."
The Googong Sport and Recreation Club will sit within the Googong Sports Precinct that will include an additional eight playing fields, and indoor pool and sports centre, a tennis centre, and an adventure playground and skate park; six netball courts and a pump track are the first elements that opened in the precinct in 2020.
Googong currently has eight playgrounds open, including an all abilities playground, two tennis courts, two dog parks, and three playing fields (that are home to the Googong Hogs AFL, Queanbeyan Junior Cricket, and the Googong Monaro Panthers).