LOTS TO LOVE
Friday, 7 August, 2020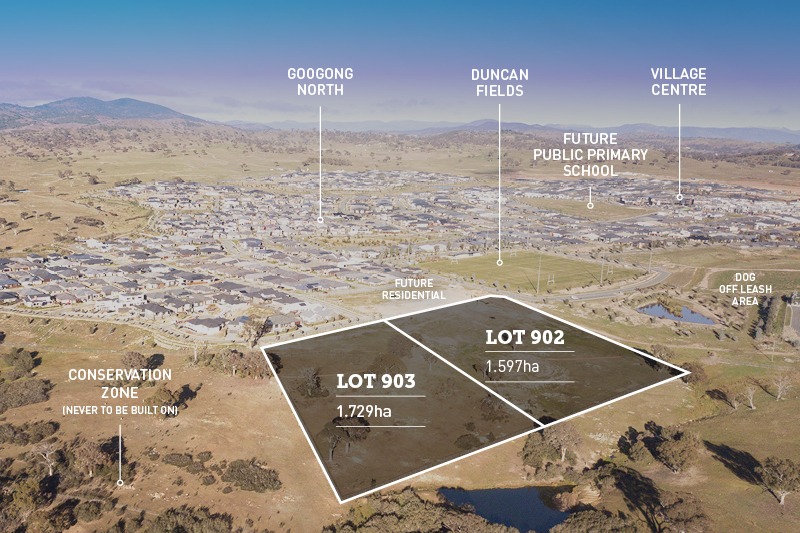 UPDATE 1/9/20: Tender closed on Lot 902 and Lot 903.
Lot 902 is sold and Lot 903 is under offer.
Two uniquely spacious suburban lots overlooking a pristine nature reserve.
This is a rare opportunity to purchase one of only two colossal lots in Googong that offer you the convenience and services of modern suburban living, with an outlook and scale beyond your imagination.
At 15,970m2 and 17,290m2 (1.597ha and 1.729ha), these lots are fit for big dreams, with space for a large home that could include a tennis court, pool, multi-car garage, personal gym, theatre room and more.
Your generously proportioned home and expansive entertaining areas will enjoy breathtaking views across a bushland conservation area that will never, ever, be built out. And with The Anglican School Googong, a public primary school (to open 2023) and Googong North Village Centre 1km down the road, you've got the shops, the school run, and dinner at your local, all within arm's reach.
Lots 902 and 903 will be sold by Expression of Interest, closing 5pm, 1 September 2020.
Download a copy of our brochure here, or pick one up from our sales office.
Download a copy of the Lot 902 and 903 Design Guidelines, here.
Download a copy of the Lot 902 and 903 EOI Terms and Conditions, here.
Download a copy of the Expressions of Interest form, here.
View a video showcasing these lots, here.
These lots provide a unique opportunity to live on a semi-rural sized lot with views over conservation area, and yet also live within an established suburban community with all the convenience and amenity that comes with town living. We've never before offered lots of this size within the township of Googong, and it will be at least another ten years before we might have anything similar again.
Contact our sales team to discuss this opportunity further on 1300 446 646, at enquiries@googong.net or by visiting our Sales Office at 12 Courtney Street Googong (open 10am–5pm Saturday to Wednesday).