GOOGONG WINS PROPERTY COUNCIL AWARD
GOOGONG TAKES OUR TOP ACT DEVELOPMENT AWARD
Monday, 28 August, 2020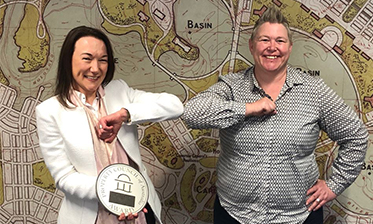 Peet/Mirvac Joint Venture representative, Penny Forrest, accepts the award from Fiona Doherty, Rider Levett Bucknall.
The developers of Googong township are thrilled to announce that Googong has taken home the ACT's top property award.
Peet Limited, on behalf of its Joint Venture partnership with Mirvac, was presented with the Rider Levett Bucknall ACT Development of the Year award today.
"Googong North was the first step in the creation of a whole new town from scratch. The site was a degraded sheep property in a rural setting when the developers envisioned a new self-contained town just 30 minutes from Canberra's CDB," says Property Council ACT Executive Director Adina Cirson.
"While Googong is just across the border, it is very much part of the Canberra community. The judges applaud Peet and Mirvac's winning combination of high-standard amenity, sustainability and liveability."
"The planning process included more than 10 years of environmental and community consultation, and engagement with four governments across three tiers. A persistent and innovative approach to planning and problem solving delivered a range of great outcomes for the residents of Googong," Ms Cirson adds.
Impressive community infrastructure in this first neighbourhood includes the Club Googong indoor pool and kids splashdesk, tennis courts, gym, a community centre, three sports fields, two dog parks, eight playgrounds and over 15 kilometres of bike, bush and walking trails.
The RLB ACT Development of the Year award is part of the 2020 Property Council of Australia / Rider Levett Bucknall Innovation and Excellence Awards program.
Googong North is now competing for the EPM Projects Award for Best Master Planned Community at the national awards, which will be held virtually on Thursday 22 October.
Congratulations to our project team at Mirvac and Peet for their passion and commitment. And a special thank you to all Googonians who share our passion for this special place and who make this town feel so connected and welcoming – this is very much your award too. Thanks also to our stakeholders, particularly the Commonwealth, NSW and ACT Governments and Queanbeyan-Palerang Regional Council who all have an interest in the region.
For a copy of the media release, click here
_________________
Last year Googong also took out top honours in two categories at the prestigious Urban Design Institute of Australia NSW awards for:
Excellence in Masterplanned Communities, and
Excellence in Regional Developments