ANZAC MEMORIAL UNVEILED
Tuesday, April 25, 2023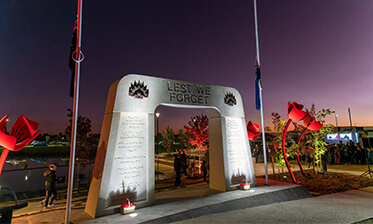 ANZAC Day 2023
Back in 2014 when Googong's first residents moved in and we hosted a modest community event to celebrate Anzac Day, residents have been asking to have a dedicated memorial in the township. Our Project team have worked hard to bring this vision to fruition, and this Anzac Day we unveiled a beautiful bespoke sculpture within Bunyip Park and adjacent to our future Town Centre. This site was thoughtfully chosen for its prominence in the Town Centre park, where it can facilitate possible road marches and large gatherings in the future. In 2025 when the Town Centre and local Googong Hotel opens, there will be an opportunity to continue the community gathering with two-up games and lingered gatherings in the café's and additional facilities across the road.
The Anzac Day sculpture was built off site and craned into place the week prior. It features a triumphal arch engraved in Morse Code with the Ode of Rembrance, such that poppies could be placed in the holes. Large sculptural metal poppies lean towards the rising sun either side of the arch, and lend colour and movement to the space.
Our Community Manager facilitated the formation of an Anzac Day committee with residents who prepared a very moving event involving local defence personnel, Chaplain Martin Christensen from the Royal Australian Navy, an address by Air Commodore Grant Pinder, poems from captains of the local Anglican School Googong, and a wreath laying ceremony involving Malcolm Leslie, Senior Project Director, and others from the community. The Last Post and Reveille was played live, by Keyden Bruce. Residents were then invited to add a poppy to the sculpture and join a Gunfire Breakfast.
It was a very moving experience witnessed by over 500 local Googonians.