WELCOME 2021
Saturday, 9 January, 2021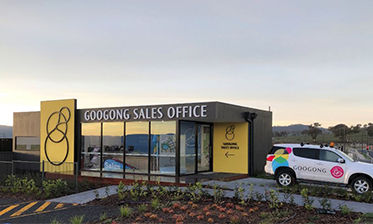 Googong Sales Office now open
Happy New Year! Our Sales Office is now open and we'd love to say hi and have a chance to talk about how this might be the year you decide to Go Googonian. You will find us at 12 Courtney Street in Googong. We have a scale model of the town that is worth taking a look at so you can understand the scale and scope of what Googong offers.


Our hours are 10am-5pm Saturday to Wednesday.

Our 19-home Googong Display Village doesn't officially open until Saturday 16 January 2021, but there are at least four homes open from today (Rawson Homes and McDonald Jones Homes) on Courtney Street Googong. Contact our Sales Office to find out more on 1300 446 646.

We look forward to speaking with you!