GOOGONG RECEIVES GREEN LIGHT ON NEW NEIGHBOURHOODS
Monday, 28 November, 2022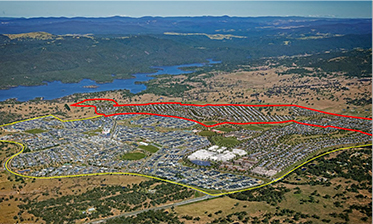 Googong continues to go from strength to strength after receiving development approval for three new neighbourhoods, Googong West, Googong South and Googong East spread across 235 hectares (indicated in the red boundaries in the artists impression above). Googong West will be the first of these to be developed and the third neighbourhood of five that make up the township.
Googong West, South and East will accommodate 2,100 homes, three new local centres, a synthetic athletics track, eight new local parks, a regional playground and a new road connection to Old Cooma Road together with connections to Googong Common and the wider community. This comes after Googong's first two neighbourhoods, Googong North and Googong Central, have completely sold out and are already home to more than 6,500 Googonians.
"This was one of the largest new housing release developments that the Southern Regional Planning Panel has assessed", explained Rebecca Ryan, General Manager of Queanbeyan-Palerang Regional Council, "It shows the significant growth of the region and the appeal of Googong as a great place for new families and is a credit to the town's joint venture developers, Peet and Mirvac."
Googong Project Director Malcolm Leslie indicated that "This level of forward planning will ensure a smooth delivery of lots and services for the township over the next decade. It means we can quickly respond to demand for land and housing in Googong, which has been exceptionally high over recent years. Through careful planning and collaboration with our partners, development of these new neighbourhoods will help us meet this demand while realising our vision for Googong".
The capacity of Googong's innovative Integrated Water Cycling system is being doubled to meet the projected population growth, and will reduce potable water consumption in the town by over 60%. Newly developed roads will be surfaced with asphalt incorporating recycled plastics and printer cartridges.
"We take pride in our green spaces and remain committed to integrating sustainability throughout the town. As part of the approval, Googong has entered into a Biodiversity Conservation Agreement with the NSW Department of the Environment, that will see it set aside 57 hectares of land for conservation and enhancement of native vegetation." said Mr Leslie.
"Protecting and enhancing the local environment has been critical to the township's planning and design. This is clear in our conservation efforts for the Pink-tailed Worm-lizard which are found along the townships eastern boundary. In joint partnership with the NSW Government, we've invested over $1 million into preserving the reptiles across two significant conservation areas," said Mr Leslie.
Googong South will also be home to the Googong Shearing Shed which will be relocated within the Yellow Box Reserve and transformed into an education and play facility for younger Googonian's. Shearing chutes will be turned into a slide, educational signage will be placed by the secured wool press and maze-like greenery leading up to the shed will be planted. A park will also be located nearby and feature playground tractors.
The community will enjoy greater connectivity to Old Cooma Road with the creation of a third major entry into Googong via Bunyip Drive. This will support the growing population and enhance traffic flow through the community.
All neighbourhoods will enjoy access to the extensive existing and planned amenity within the township, including the growing sports precinct, Kindergarten to Year 12 schools and a retail, entertainment and wellbeing precinct in the Googong town centre.
Currently home to 6,500 Googonians, the township is expected to grow to a population of over 18,000 people at completion.