MEDIUM DENSITY SITE FOR SALE 2021
MEDIUM DENSITY SITE FOR SALE BY EOI
Wednesday, 27 January, 2021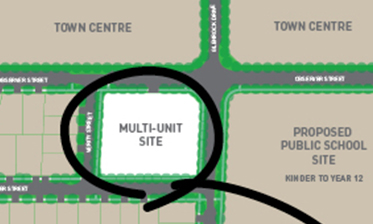 Lot 816 is a 4,222m2 site adjacent to the $143 million Googong Town Centre, schools and playing fields is zoned R1 with a 12m height limit and represents an attractive opportunity for an accomplished builder developer.
Concept plans for a 18, two storey terraces are available below with a height limit of 12m, more intensive development would also be possible. Estimated title date is December 2021 - February 2022 with an extended settlement to April 2022 offered to support developer approvals and pre-sales program.
Tenders close 26 February 2021.
Googong is a new self-contained township being developed as a wholly-owned Joint Venture between Mirvac and Peet Limited. The town is located in NSW, just over the border from Canberra and only 16km south-east of Parliament House. It will eventually be home to around 18,000 people; already over 5,000 people live there.
For further information contact Sharon Feist via email enquiries@googong.net or phone 0427 161 446. Our Sales Office is open from 10am-4pm Saturday to Wednesday (except some public holidays) at 12 Courtney Street Googong NSW.