NEW DISPLAY VILLAGE
Thursday, 19 October, 2023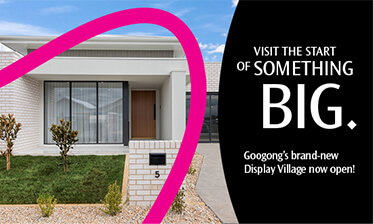 Googong's fourth Display Village opens!
Googong's brand-new Display Village is opening progressively with exciting new homes showcasing the latest trends and great ideas. Our first weekend, Saturday 21 October 2023, sees the first seven of our builders throwing open their doors, including:
BBS Homes

BLD Homes

Burbank Homes

DJ Homes

Eureka Homes

G.J. Gardner Homes

JD Homes
Our thirteen builders will eventually showcase a huge 17 homes between them, so there's plenty of reasons to pop back a few times over the coming months to take a look at the newest additions. In fact, contact us to find out about the latest new homes as they open, call 1300 446 646 or email enquiries@googong.net (7 days).
The Googong Display Village is open 11am-4pm weekends (except some public holidays), on Edward Drive Googong.
Our Sales Centre is nearby too, at 5 Glenrock Drive, so pop in and take a look at our township model and grab a coffee while you're in the neighbourhood. Plus, we have a terrific Bunyip-themed playground just next door if your little ones need to burn some energy!

Fore more information on the Googong Display Village, click here.