GOOGONG DISPLAY VILLAGE OPENS
GOOGONG DISPLAY VILLAGE OPENS
Friday, 30 October, 2020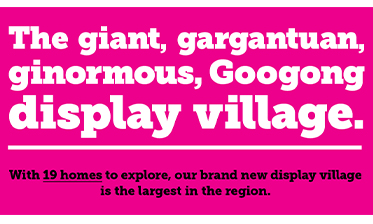 Googong set to house biggest display village in the region
The biggest display village in the region will open in Googong on Saturday 31 October, giving potential home buyers more choice than ever when it comes to planning for their future home.
The 19 display homes have been built by 15 different builders, representing the range of homes available as part of the house and land packages in Googong.
Googong spokesperson, Penny Forrest explained the extensive display village will have something for everyone and encouraged anyone contemplating buying land to take a look.
"We understand purchasing a block of land without being able to see a finished product can be a daunting experience. Display villages are a great way around this. They provide inspiration for future homes, allow buyers to connect with potential builders, and give people a feel for what they want in a home," said Ms Forrest.
"Googong is experiencing record interest and sales because of the better value on offer for buyers and the lifestyle benefits available within the community. Given the current interest in moving to Googong, the timing of the new display village couldn't be better.
"The size of the display village also can't be understated – you could say it's the biggest thing to happen in the region since the Big Merino," said Ms Forrest.
The display village will be open each week from Saturday to Wednesday between 11am to 4pm, with homes by leading builders:
Achieve Homes (who have two display homes)

APA Homes

BBS Homes

BLD Homes

Burbank (who have two display homes)

DJ Homes

Dixon Homes

Exceed Homes

G.J. Gardner Homes

Ideal Building Solutions

JD Homes

McDonald Jones Homes (who have two display homes)

Thrive Homes

Rawson Homes (who have two display homes)

Vogue Constructions
Googong is continuing its strong growth as one of the fastest selling developments in the country and is already home to over 5,000 people.
The community, which will eventually be home to 18,000 residents, is constantly evolving with the planned development of a town centre featuring a retail, entertainment and well-being precinct, next on the cards. A proposed secondary public school, public library, fire station, aged care facility and community centre will also be part of the town centre.
Village Shopping Centre is already well established, while The Anglican School Googong takes students from Kinder to Year 10 and is on track to expand up to Year 12 by 2023, and a public primary school is scheduled to be completed in 2022.
Since welcoming the first residents in 2014, the joint venture township between Peet Limited and Mirvac Group has fostered a strong community spirit and placed an emphasis on shared values.
For more information on Googong please go to https://googong.net/display-village