GOOGONG SIGNS WITH COLES AND MAJOR DEVELOPER
Saturday, May 13, 2023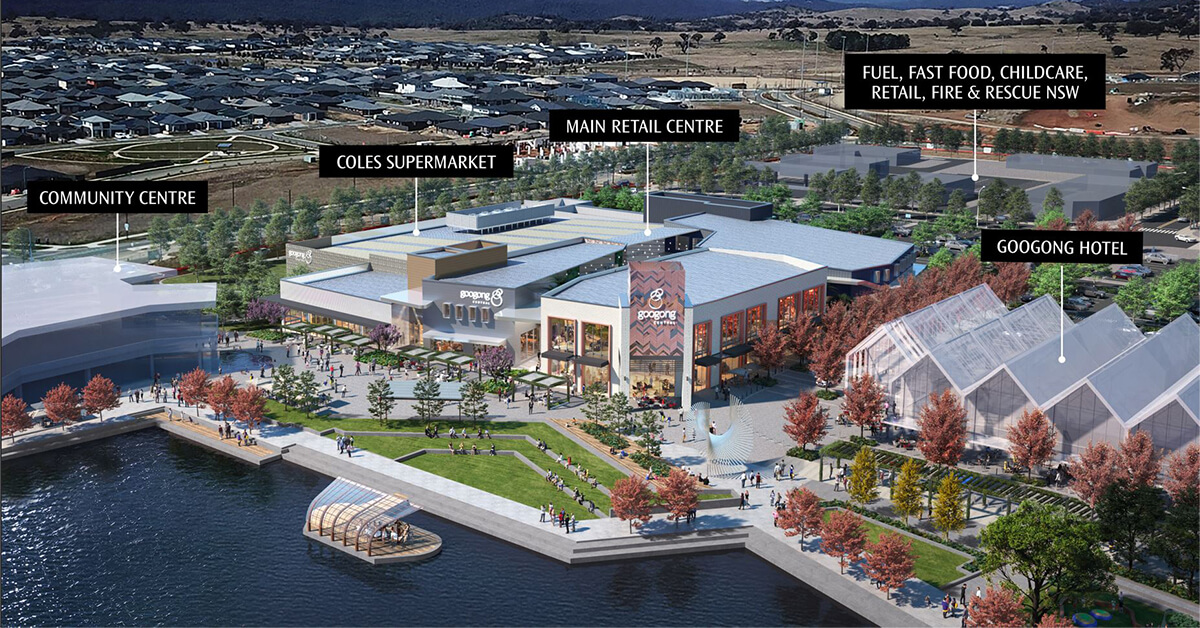 The fast-growing township of Googong has signed a new deal to bring major supermarket retailer Coles to the township as the anchor tenant of the Googong Town Centre. Located adjacent to Bunyip Park, Googong Coles will be a part of the $44 million main retail centre planned to include a medical centre, gym, about 25 shops including cafes and restaurants, and three major carparks.
Googong Town Centre will become a hub for residents and includes a site to the south of the main retail centre that was recently purchased by property development company the Stevens Group. This $13 million development is planned to house a childcare centre, fast food outlets, a petrol station and other large format retail outlets that are complementary to the main retail centre.
In March, it was announced that a dramatic, architecturally designed pub, function and entertainment facility, The Googong Hotel, will be built adjacent to the main retail centre and will overlook the Bunyip Park lakeshores.
Malcolm Leslie, Googong Project Director, said the introduction of a Coles supermarket and these new retail and entertainment offerings is a significant milestone for the township which will enhance the lifestyle opportunities for the local community.
"These facilities are all being delivered in parallel as part of the first stage of the Googong Town Centre and are planned to open in 2025. They fit within a masterplan concept for the Googong Town Centre that we have envisioned to provide a mix of convenience, employment and community connectivity for residents and visitors alike."
Future stages are planned to include a second major supermarket, more shops, residential apartments, and a community centre including a library and council shopfront.
Coles State General Manager, Ivan Slunjski said Coles was excited to bring a new state-of-the-art supermarket to the Googong community and complement the existing retail offerings provided in Googong North Village Centre.
"Coles is committed to investing in Googong and our new supermarket will create hundreds of new local retail and construction jobs, as well as offer more choice, great value and an enhanced shopping experience for local residents," he said.
Development Director from Stevens Group, Jason Capuano, believes the southern site which they plan to develop for childcare, fast food outlets, a service station, and large format retail, will benefit not only Googong but also the wider region.
"We have worked hand in glove with Googong to design and deliver a solution that is catered to the community and its long-term needs. Our retail site combined with the wider Town Centre offerings will provide residents with options that we believe will become an integral part of Googonian's day to day lives," said Mr Capuano.
The total construction costs for the Googong Town Centre development, which includes the main centre, the southern site, and the Googong Hotel, are expected to exceed $82 million. Development across all sites is estimated to create approximately 345 construction jobs and 640 permanent jobs upon completion. Construction is expected to commence later this year while the Googong Town Centre is anticipated to open in 2025.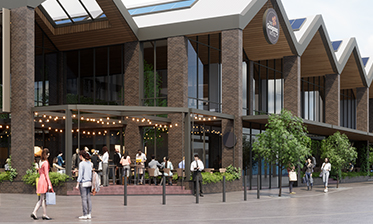 Above: The Googong Hotel set to raise the bar, and establish itself as a destination for the region.