ALWAYS WAS, ALWAYS WILL BE
NAIDOC WEEK, 8-15 November, 2020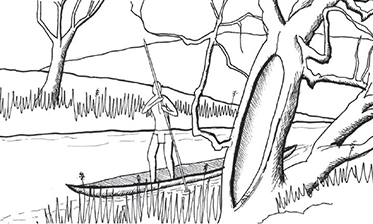 Celebrating NAIDOC Week, 8-15 November 2020
Bunburung Thina is the central green parklands that meander through the heart of Googong. It follows Montgomery Creek and its chain of ponds, that are being restored to return this natural resource back to the land. Water is the lifeblood of a healthy country and is vital to the cultural and spiritual identity of Aboriginal people.
Aboriginal people relied on healthy waterways to carry out their cultural and day to day activities, such as fishing, hunting, practising ceremony, following song-lines and accessing medicinal plants and herbs. More significantly water forms the basis of many Aboriginal Dreamtime stories about creation.
Bunburung Thina, in the Aboriginal language of the Ngunawal people means small lizard track. This name has special significance at Googong due to the existence of the Pink-tailed Worm-lizard (which we have created a $1m sanctuary for) and the snake like characteristics of Montgomery Creek. The winding nature of the creek connects with the belief of the Ngunawal people that the brown snake is a protector of Aboriginal sacred sites.
Celebrating NAIDOC Week
#NAIDOC2020
#AlwaysWasAlwaysWillBe
With acknowledgment, Thunderstone Aboriginal Cultural Services, With acknowledgment, Thunderstone Aboriginal Cultural Services, and Ngambri people as the traditional custodians of the Queanbeyan and surrounding regions.