GUGUNG BY LYNNICE LETTY CHURCH
GUGUNG, BY LYNNICE LETTY CHURCH
NAIDOC WEEK, 2-9 July, 2023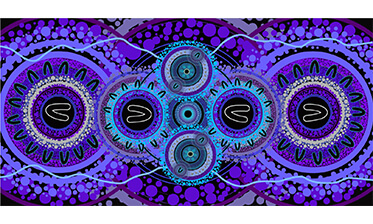 For Our Elders
This beautiful artwork, Gugung, was designed by Lynnice Letty Church of the Ngunnawal, Wiradjuri and Kamilaroi Tribes of ACT/NSW, and in consultation with her Elders. It was commissioned by Googong Township to celebrate NAIDOC Week 2023 which commenced today, on the theme of 'For our Elders'.
The artwork depicts the Googong landscape as a place to connect with Country and community. The nearby ranges are identified by the line along the top of the artwork, and the Queanbeyan River is traced with the line along the bottom of the artwork, framing and connecting the community groups within.
Googong (Gugung) in Ngunnawal Language means relax and traditionally this area was used to camp, fish, and hunt. Evidence of Ngunnawal peoples ongoing and continual connection is still here today, and as you explore the landscape there are numerous important sacred sites and scar trees.

People are represented in the painting with a 'u' shape (being the shape left in the ground after sitting cross legged). In this work, the larger shapes are the Elders who are depicted as being central to our communities (the various large circles of the artwork). Our Elders share their cultural wisdom, knowledge, and stories to help us to understand our responsibilities in caring for country and each other as one people. Our Elders are our leaders and the pillars of our families and communities. They connect us with our past, present, and future by guiding us and growing the next generation of Elders and Leaders.

The artwork is dominated by a striking colour pallet of purples, blues, and greens, with subtle creamy ochre. These colours are found in the local landscape: in the colour of the earth pigment, the local flora, and the way the light reflects off the bush backdrop of the nearby mountain ranges.

The creamy ochre colour (used as a pigment in cultural ceremonies), identifies the circles to the far right and left of the artwork as being Ngunnawal family or community groups. While the circles in the middle remind us of the diverse and complex family and community groups that we all come from. And these various groups are connected to each other, and to Country, by the black lines that link them and by the circle in the middle (Nguru) that invites us to camp and care for Country, together.
View a higher resolution image of this artwork, here.
This artwork is also celebrated on our Googong entry sculpture marking this week, NAIDOC Week 2023.