SMART CITIES BLUEPRINT
Friday, 22 January, 2021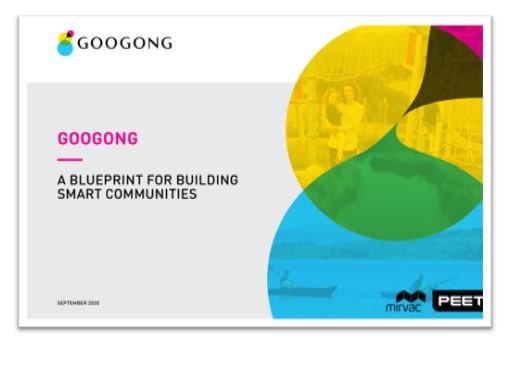 Creating a blueprint for change:
Googong releases guide for sustainable community development
Recognised for its sustainability credentials, the township of Googong has rolled out Smart City Infrastructure in the town, and released a blueprint to support other planners, developers and councils.

The Googong Smart Cities Blueprint was created by developers Peet and Mirvac in collaboration with Queanbeyan-Palerang Regional Council and highlights the unique opportunity master planned communities can capture if innovative infrastructure design is considered from day one.
"When we first imagined Googong, we had a goal of building a long-term sustainable community. Having this mindset from the outset provided a framework for the team to adopt innovative technologies and practices which provide long-term benefits to our community," said Googong Project Director Malcolm Leslie.
"The latest of these initiatives is the rollout of Smart Cities infrastructure in our second neighbourhood, which was delivered with support from a $1.1 million grant from the Federal Government's Smart Cities program. We've incorporated state-of-the-art technologies such as digital-enabled waste and facilities management systems, infrastructure for electric cars, public Wi-Fi, lighting and environmental monitoring systems to reduce the town's carbon footprint and overhead costs, and more," said Mr Leslie.
"While Smart Cities infrastructure is not new, Googong is possibly the first development in Australia to roll out the infrastructure on such a scale, and across so many disciplines. Because of this we took the initiative to develop the Googong Smart Cities Blueprint so that other developers and councils could apply our learnings," concluded Mr Leslie.
The township, located in New South Wales and only minutes away from the ACT, has been a highly collaborative effort by its developers and Queanbeyan-Palerang Regional Council.
"The success of Googong is due in large part to our shared focus on sustainability from the very beginning. When you address long term problems with long term solutions, you reap the benefits for generations to come. We're proud to work alongside Peet and Mirvac in creating the Googong Smart Cities Blueprint," said Mayor of Queanbeyan-Palerang Regional Council, Cr Tim Overall.
Googong's commitment to sustainability has included dedicating 24% of the site to open space and building sports facilities and roads from recycled materials. Googong has developed design guidelines that exceed required BASIX sustainability standards, maximised lot orientation for solar passive design, and introduced measures to mitigate the impacts of Heat Island Effect in the neighbourhood.
A full-time community manager fosters community connections and environmental education programs. Alongside government and environmentalists, it has heavily invested in the protection of local flora and fauna with a $1 million program to save the vulnerable pink-tailed worm lizard which also calls Googong home. The town's developers have invested in an integrated water cycle system to deliver non-potable recycled water to homes, parks and open spaces in the town that ensures Googong's eventual 18,000 residents will use less water than the average Australian community of 6,500 people.
The Green Building Association of Australia certified Googong's sustainability credentials with the first 5-Star Green Star – Communities rating in the ACT/NSW region; and in 2019 Googong won the prestigious UDIA NSW Award for Best Masterplanned Communities.
Since Googong's inception in 2003, Peet and Mirvac combined their expertise in community development to identify areas for improvement in environmental resource management and sustainable design. This has been rolled out in a way that can be scaled both within Googong and replicated in other new communities in Australia.
Googong is home to more than 5,000 residents who have grown to become champions of change while the population is expected to reach 18,000 at completion.
The Googong Smart Cities Blueprint is available for download here.