ENTRY SCULPTURE REVEALED
Wednesday, 1 July, 2020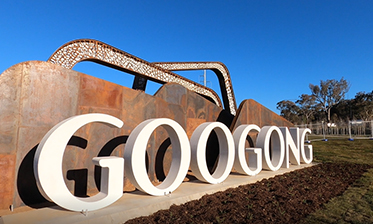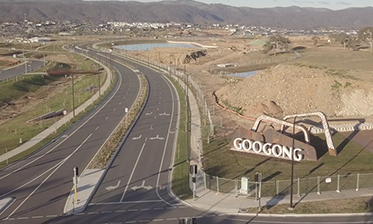 VIEW TIMELAPSE VIDEO OF SCULPTURE INSTALLATION HERE.
Googong Central continues to take shape with the installation of a sculpture standing close to 7 metres tall at the Township's new main entry. This is the beginning of what will become Googong's main retail, wellbeing and community hub.
The sculpture is a nod to Googong's local ecology and geology, celebrating the foundations of its natural environment and signifies an important step in the development of the township.
Malcolm Leslie, Googong Project Director, said this new sculpture will act as a welcome to residents and visitors.
"The sculpture marks the main entrance to Googong and has been designed to acknowledge the foundations of the natural environment and embrace the 'essence of the Monaro' unique to the area.
"We are excited to see this sculpture come to life and hope it will become an iconic and visual landmark for both Googonians and visitors alike," Mr Leslie said.
Rusted steel blades mirror the shape of surface rock strikes, prevalent in the Googong landscape, and provide a backdrop for handcrafted precast lettering. Large arches dominate the structure and acknowledge the presence of the Molonglo Ranges, while at the same time revealing the microscopic patination of the endangered Golden Sun Moth wings.
Due to open in 2024, Googong Central Town Centre will be similar in size to the Manuka shopping precinct and include two major retail supermarkets, as well as cafes, bars, restaurants, small businesses and specialty retail shops, generating hundreds of local jobs for the region.
There are also further plans to open a public library, fire station, community centre, aged-care facility, and a Kinder to Year 12 public school in Googong Central in the future.
Since sales commenced in 2012, Googong has been one of the fastest selling developments in the country. Over the next 15 years, the township will deliver 6,500 new homes and a major commercial centre to service the eventual population of 18,000.