$25,000 HOME BUILDER GRANT
Thursday, 4 June, 2020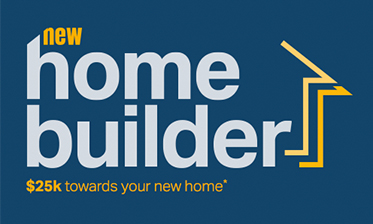 Googong welcomes Federal Government announcement
Googong developers, Peet and Mirvac, have welcomed today's announcement of the Federal Government's new HomeBuilder scheme.
The HomeBuilder grant will give Australian home buyers access to a $25,000 grant to go towards the cost of building a new home (including land) up to the value of $750,000, or to assist with renovations of between $150,000 and $750,000.
Effective immediately, HomeBuilder is available to couples with a combined income of less than $200,000 per year and individuals earning less than $125,000 per year, for contracts entered into before 31 December 2020.
For more information on the HomeBuilder grant, and other grants which you may also be eligible for, click here.
Buying your first home?
Today's HomeBuilder announcement comes as Peet has launched its First Home Buyers Toolkit, an online platform that provides first home buyers with the tools, information and confidence they need to purchase their first home. The toolkit features downloadable guides, expert videos and articles and a check-list that will help any first home buyer to navigate the buying journey.
Buying your first home is one of the biggest events in your life and the process itself can often be daunting. Peet has created its First Home Buyer Toolkit to provide support and guidance to buyers and help make the experience as seamless as possible through five easy-to-follow steps. To sign up for the First Home Buyers Toolkit, click here.
Additional state-based incentives
In addition to the Federal Government's New Home Buyer Scheme, first home buyers in New South Wales may also be eligible for a concession or exemption on stamp duty plus as $10,000 towards the purchase or build of a new home. Conditions apply and applicants must meet certain requirements.
For more information, please visit: https://www.revenue.nsw.gov.au/grants-schemes/first-home-buyer