GOOGONG'S FIRST SHOPPING CENTRE TAKES SHAPE
GOOGONG'S FIRST SHOPPING CENTRE TAKES SHAPE
Friday, 15 September, 2017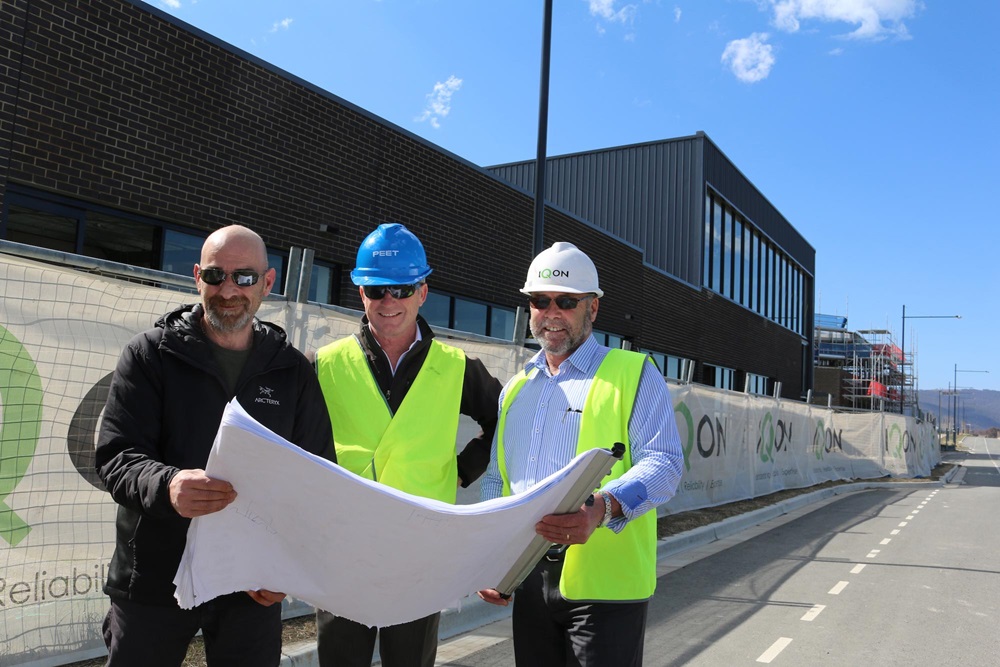 IGA Operator, John Efkarpidis; Googong Project Director, Malcolm Leslie; and Iqon Project Director, Peter Naylor review progress of the centre.
GOOGONG'S FIRST SHOPPING CENTRE TAKES SHAPE
Googong's first shopping centre is expected to be completed by the end of this year.
The new Googong North Village Centre will house a 1,000 sqm IGA Supermarket and seven specialty stores, as well as a cafe/bar, gym, vet, medical and dental services, community centre and Googong's first childcare centre.
Construction is well underway on the new complex, which is located in the middle of Googong township, on the corner of Gorman Drive and Caragh Avenue. It is within walking distance for most of the 3000 residents who already live at Googong and right on the doorstep of the higher density homes planned in the future.
John Efkarpidis, a long term resident of nearby Fernleigh Park, is the new IGA leaseholder. He knows the local market well having successfully operated the Cannons Supermarket chain for many years.
"We want to create a community-focused store that services the Googong residents and surrounding region," John said. "Having lived in the area for more than 25 years, I saw the Googong supermarket as a great opportunity to provide a missing need in the community."
ACT-based construction and project management company Iqon is managing the project. Project Director Peter Naylor said the final mix of specialty retailers would feature local and national brand operators including a hairdresser, restaurants, fast food, butcher, baker and a newsagency.
"Over the next six weeks, Googong residents will be able to see first-hand the quality village centre that is being developed," Mr Naylor said.
"Googong township is growing fast and there is a big demand for local shopping. The new centre will be a huge convenience for the people who live and work here."
The new medical and dental tenancies will be operated by the Discount Pharmacy Group and will bring local health services to Googong for the first time.
They will be adjacent to the new childcare centre which will provide a state-of-the-art learning environment for children from 0-6 years and will be operated by Our Place Education Services, who have a centre at Jerrabomberra.
The exterior of the new shopping centre, including car parking and landscaping, is expected to be completed next month.