GOOGONG PUBLIC PRIMARY SCHOOL
GOOGONG PUBLIC PRIMARY SCHOOL
Friday, 3 April, 2020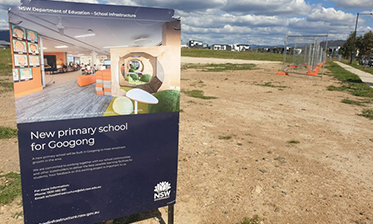 The RiotAct reported this morning that the NSW Government has promised the Googong Primary School will be ready in 2022. See the full story here.
We welcome the exciting news from John Barilaro on behalf of the NSW Government that it is commencing preliminary works for the development of a new primary school in Googong. With more than 4,800 people living in this thriving new town, the development of the community's second school is an important milestone.
The public primary school – and the public high school which is yet to be developed – will complement The Anglican School Googong which opened in 2015 and is currently taking enrolments from Early Learning to Year 9, with projections to grow each year to year 12 by 2023.

This announcement highlights the options residents will have when they choose to raise their families in the community.