BOOGONG HALLOWEEN FUN AT GOOGONG
BOOGONG 2022
HALLOWEEN FUN AT GOOGONG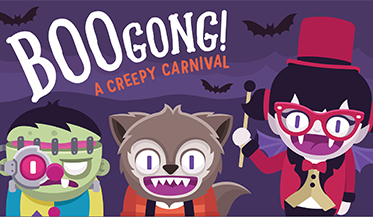 BOOGONG 2022 - SO MUCH FUN IT'S SCARY!!
Head to Boogong for a hotter than hot Halloween. Boogong 2022 is turning up the heat again this year so break out your fetid finery, collar your little demons and make tracks to Googong for one of the biggest Halloween parties in Australia, on Saturday 29 October 2022, from 5pm-9pm.
The stage is set for the annual spookfest which is heading to Googong's Rockley Oval bringing with it a touch of gruesome glamour in the form of a spectacular creepy circus cabaret with jaw-dropping performances from Australia's best circus talent.
Boogong is a spook-a-licious Halloween treat for the whole family. And best of all, it's free, thanks to Googong developers Peet and Mirvac.
Squeal and gasp at the antics of aerial divas "Scare in the Air", watch axe and knife jugglers death defying feats, high-five the roving devil stilt-walkers, and see the high octane finale fire breathing performance of the Sydney Fire Dancers. Explore the creepy graveyard with 30 mysterious headstones rising from the mist … and watch your back as the visiting hordes of ghosts, goblins and zombies make way for acrobats, jugglers, stiltwalkers and roving monsters. Bring your demon darlings and try the kissing booth or dress up in your frightful best and strut your fiendish stuff on the catwalk for the chance to win a great prize.
So let your little monsters off the chain for a fabulous night of mischief and mayhem in the junior disco while you kick back and enjoy a warm glass of hemlock. There will be more than a dozen gourmet food vendors to feed the hungry hordes. Or pack your own picnic and enjoy the show.
Head out early to claim a great spot. Googong is located just 25 minutes' drive from Canberra CBD, or catch one of our FREE BUSES which will leave from Woden, Jerrabomberra and Queanbeyan. Click here for bus timetable.
When: 5-9pm Saturday 29 October 2022
Where: Rockley Oval, Googong. Parking is available in a dedicated, marshalled area on Wellsvale Drive. See brochure for parking details. Click here for free bus information.
FREE EVENT !!
Information for Googonians regarding road closures, click here.