$1 MILLION DOLLARS TO SAVE RARE PINK LIZARD
$1 MILLION DOLLAR FUND TO SAVE RARE PINK LIZARD
Thursday, 1 August, 2018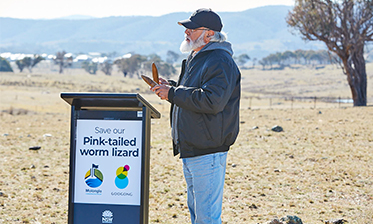 Buru Ngunawal Elder, Wally Bell, representing the Traditional Custodians of Googong, gave a very spiritual Welcome to Country at the launch of our $1m Fund to Save the vulnerable Pink Tailed Worm Lizard.
The fund comprises a $495,000 grant from the NSW Government's Saving Our Species Program and a matching contribution from Googong Township developers Peet Limited and Mirvac.
The fund will support a six-year conservation project to be managed by the Molonglo Conservation Group with support and future custodianship from Queanbeyan-Palerang Regional Council.
For a copy of the full media release, click here